Mennica Legacy Tower
is a set of two office buildings comprising a 140m tower and a 43m West Building (Budynek Zachodni) with a total lease space of 65 630 sq. m. The tower and the West Building (Budynek Zachodni) provide tenants with respectively 50 750 sq. m. and 14 880 sq. m. of space. Also, both buildings offer 4 500 sq. m. of commercial and service premises.
| | |
| --- | --- |
| Total size | 103 000 sq. m. |
| Total office space | 67 000 sq. m. |
| Parking spaces | 490 |
| Elevators | 30 |
With its timelessly elegant design as one of key features, Mennica Legacy Tower, which is a joint investment of Golub Gethouse and Mennica Polska S.A., is bound to stand out.
A true symbol of the newly-commissioned skyscraper is a fully glazed 12-metre lobby featuring a 9-metre water wall right behind the main reception desk. Natural materials of the highest quality add to the prestige of the building.
The lobby was covered with Italian Rosso Verona Dark marble, whereas the Indian Shivakashi granite was used for the floor. The walls of the core of the building, portal frames and lift lobbies are characterized by the use of Travertino Romano, which made its way towards the floor occupied by the tenants as well.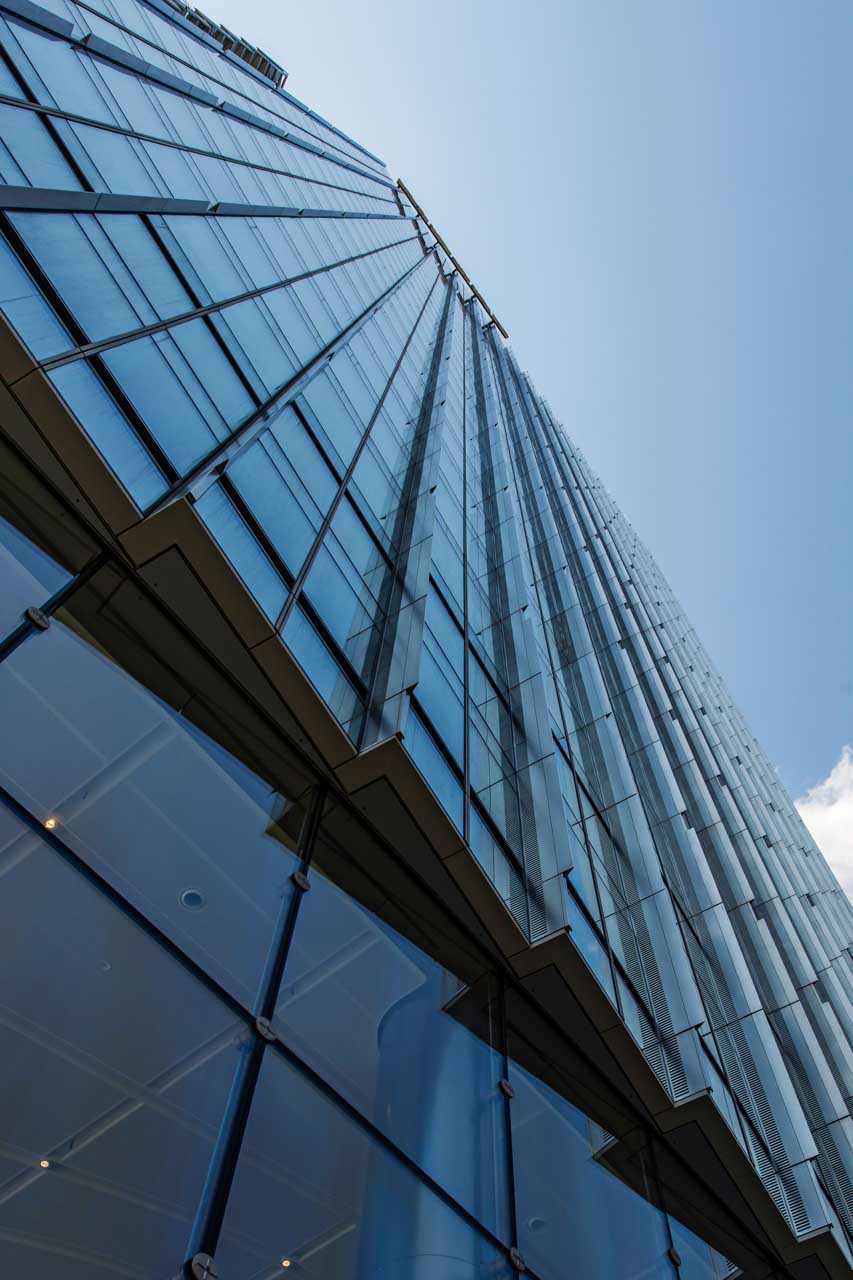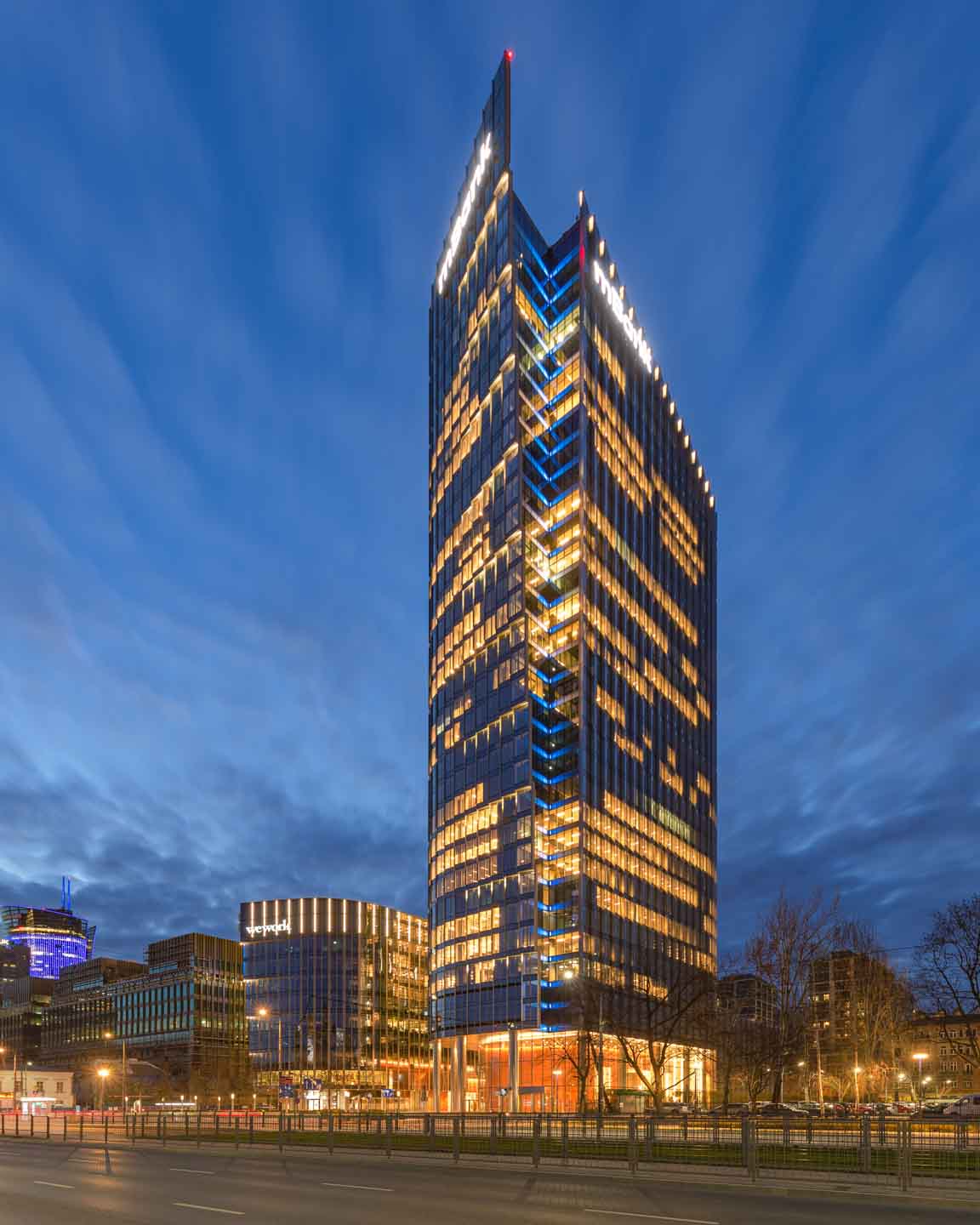 Not only does Mennica Legacy Tower display extraordinary architecture, but it also combines cutting-edge technology, functionality and top-quality finishing materials. Both buildings incorporate advanced technological solutions which enhance work efficiency as well as provide their tenants with the highest possible safety.
Mennica Legacy Tower was designed by the renowned Chicago-based architectural studio Goettsch Partners, with Epstein acting as the studio's local architectural partner. The project was constructed in accordance with the requirements of the internationally recognized BREEAM sustainability certificate with an "Outstanding" rating. Warbud S.A. is responsible for the implementation of the project as the general contractor.
The public realm surrounding Mennica Legacy Tower features a pedestrian passage with, among other things, a carefully selected collection of Liquidambar styraciflua (American Sweetgum) trees which grow as high as 8-9 metres along with a crown width up to 4 metres. As part of the project, there was a thorough refurbishment of Waliców St. carried out (between Prosta St. and Pereca St.).
Designed with staff in mind, both buildings host green terraces which provide employees with unique space whether to thrive and carry out their tasks effectively, or to unwind and get away from it all.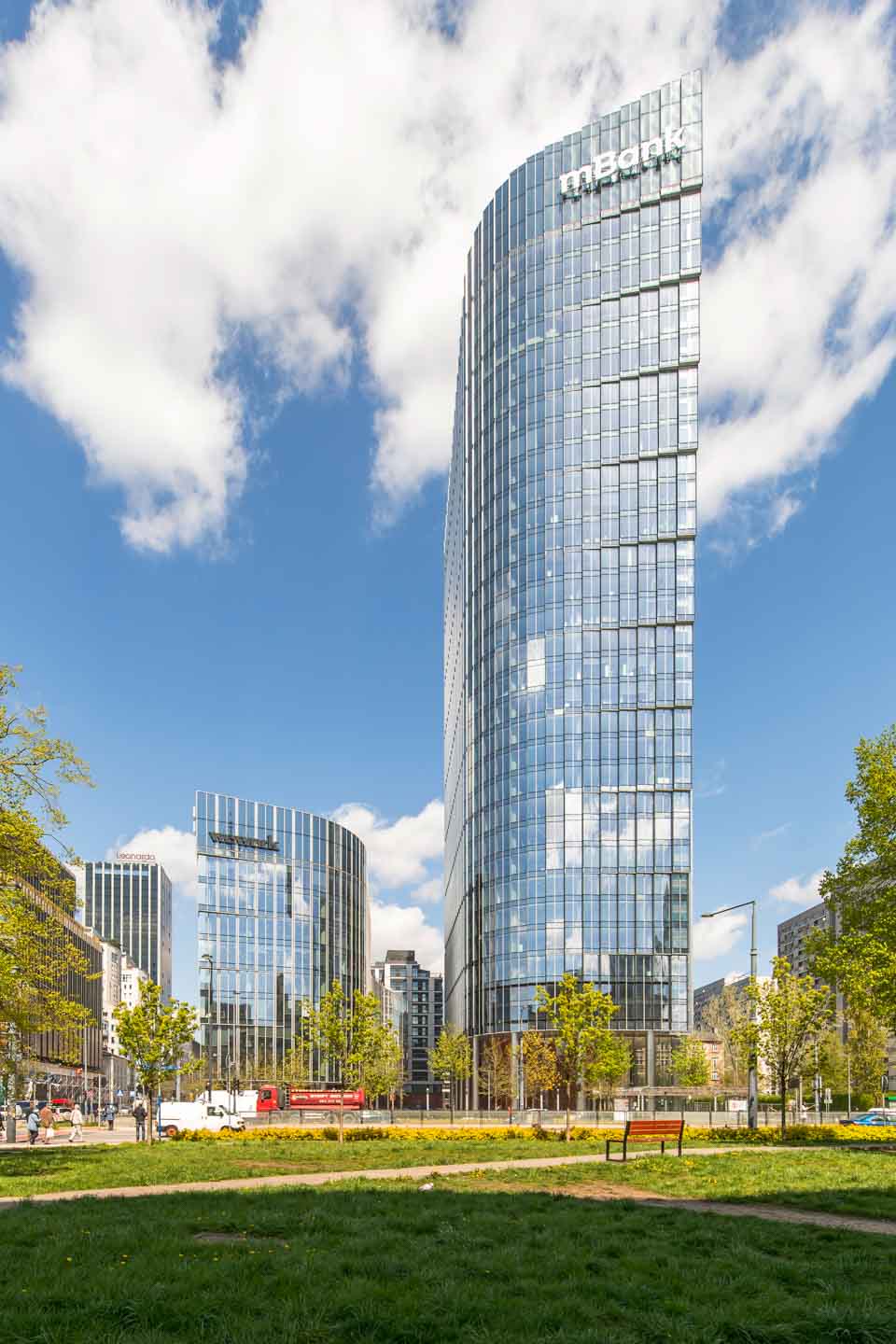 The project was voted Best Green Design of 2016 and won Green Building Award.
In 2013 Mennica Legacy Tower received the highest accolade in the world's leading sustainability certification becoming the very first skyscraper in Poland to comply with the requirements of BREEAM Outstanding rating.
The Goettsch Partners project was also recognised by a prestigious nomination in BREEAM 2018, which was held by Building Research Establishment (BRE).
In November 2022 both Mennica Legacy Tower buildings were certified as "Buildings without Barriers" by Integracja Foundation.